Appliqued Viking apron dress For Coronation, Fall 2011

In Progress
Cresting the Hill
Nearly done. The griffin is on and only embroidering one claw and the tail stand between me and calling it done. Well, I want to embellish the eye and need to add a tongue, but that's fairly minor.

When that's done, I get to start planning the gold band around the bottom that will have gold gouttes de sang. I think I have an approach, so that's good. It would be even better if I wasn't sick with a stinking cold, but you can't have everything.
added by Tasha Medvedeva on Sep 5 2011
Stuck in the Middle With You
Still working on assembly... sort of. Everything is sewn together, and I reinforced all the bodice seams with a sort of herringbone stitch. The overcast stitch as too stretchy. THis one takes more thread, but that's okay; it's a bit more rigid and won't gap unattractively. Currently, I'm stitching down the gold braid on the seams, which is slightly less annoying than I thought it would be. It does go fairly quickly.

Next up, hemming top and bottom, then placing the griffin, figuring out what the bordure will look like, and then determining whether or not I can use the gouttes I already made.
added by Tasha Medvedeva on Aug 10 2011
The Middle
Finally decided that I'm handsewing this whole thing. I stitched single-fold hems on all seam edges, then used an overcast stitch to join the pieces together. It was really fun, actually... till I noticed a problem. The dress is too big. I'm going to have to deconstruct it and fit it and put it back together again.
added by Tasha Medvedeva on Jul 27 2011
The Beginning
Started planning this at the end of June, when Duchess Anna sent out an email that said that Princess Kiena and Prince Gregor were hoping that ICOD and Duchy Tarragon would wear livery to Coronation.

I don't have livery; I was out of the country when Tarragon made theirs. So I started planning a Viking version of the livery: blue Viking dress, red undergown, with a griffin appliqued on the front and a gold band around the bottom hem with red blood drops, as with our household badge.

The traditional griffin was not Viking at all, however, so I redrew it. I added some knotwork to the blood drop (aka goutte de sang) as well, just to add interest; I don't know if I'll go through with it.

The blue wool I bought is far lighter than I think I should be using, and the supplier has no more blue wool in any shade, so I may search for it again. The griffin will be appliqued in gold wool with black detail, hand stitched.

I'm planning on taking my summer break from school to work on this and get it all done, so stitching on a lap full of wool in August... yay.

I'm calling it my Viking Fabulous Dress. If it turns out the way I have it envisioned, it really will be.
added by Tasha Medvedeva on Jul 5 2011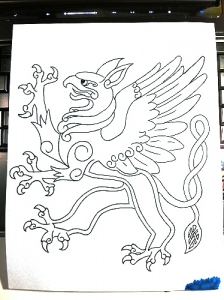 added by Tasha Medvedeva on Sep 5 2011
added by Tasha Medvedeva on Jul 5 2011