A gamurra made of coral linen, with turquoise wool guards. It laces in front and on the sides.

Complete
I wasn't working from a particular image for this dress, so it's a little difficult to place it chronologically. The overall form is 15th century, but the addition of the guards pushes it to the vary late 15c or beginning of the 16c. It's finished except for the chemise and sleeves. Without the guards, I could have made sleeves to match the body of the dress, but with the guards I think I have to make contrasting sleeves for it to look right.
added by Lorenzo Petrucci on Apr 23 2009
Chemise
I also have a chemise half-finished for this dress...
added by Lorenzo Petrucci on Apr 23 2009
Chemise
The chemise is now finished. Still needs sleeves and a lacing cord for the front.
added by Lorenzo Petrucci on Apr 25 2009
Finished!
The sleeves are made from a sage green cotton damask with no lining. A single tie made from the same wool as the guards attaches each sleeve at the shoulder. I still need to do a final fitting and make sure I can get the chemise arranged properly, but I think this project is pretty much done.
added by Lorenzo Petrucci on May 2 2009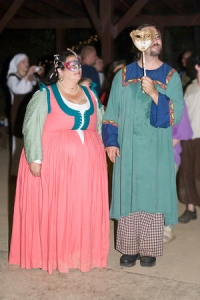 added by Lorenzo Petrucci on May 28 2009
added by Lorenzo Petrucci on May 28 2009