A new cioppa in the Sienese style.

Complete
Planning
My old orange cioppa was a good first attempt, but the fabric was lousy and the fur trim was pretty nasty. I'm not even sure where it is anymore. At any rate, it was a good first attempt, and I hope to improve on it this time around. I'm looking at the frescoes in the Spedale di Santa Maria della Scala for inspiration, which means I'm shooting for somewhere in the 1440-1450 time frame. The only distinctively Sienese trait I can discern is the width of the fur trim at the bottom of the cioppa. This seems to fit with the Sienese reputation for ostentatious dress at the time.
added by Lorenzo Petrucci on Jan 6 2009
Construction
I've gotten working on the pleated body sections of the cioppa, which is the only really time-consuming part of this project. The basic gist of it can be seem in the "pleating test" in the links. I'm planning to have 10 sections total. Two are done and attached the each other, and three more are in progress. Two sections will be cut down some at the top to become part of the armscye; I'll do those last. The joins between sections are being covered with the infinite spool of twill tape I got years and years ago. Sure it's synthetic, but I've got so much of it I can't imagine ever using it all up.
added by Lorenzo Petrucci on May 25 2009
Progress
Six pleated sections are done. The entire back (four sections) is assembled, and half of the front (two sections). Pictures and construction details are in the links.
added by Lorenzo Petrucci on Jun 7 2009
Progress
The body is complete, save for hooks and eyes. There's a bit more fullness in the back than I would like, but there's not much I can do about it at this point. There's a picture of all the sections put together (sans stay tapes) in the gallery.
added by Lorenzo Petrucci on Jun 22 2009
Finished!
I finished the last bits on this last night, and got pictures this morning. Links to the picture gallery and the last few journal entries can be found to the right.
added by Lorenzo Petrucci on Jun 28 2009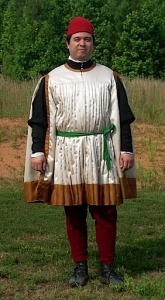 The Founding of the Spedale di Santa Maria della Scala (Vecchietta)
added by Lorenzo Petrucci on Jan 6 2009
Tondo by Masaccio (short sleeved cioppa on the left?)
added by Lorenzo Petrucci on Jan 15 2009
The Blessed Raniero of Borgo San Sepolcro Appearing to a Cardinal in a Dream (Sassetta, 1444)
added by Lorenzo Petrucci on Jan 15 2009
Adoration of the Magi (Paolo Uccello, 1435-40)
added by Lorenzo Petrucci on Jan 15 2009
Miracle of the Desecrated Host (Paolo Uccello, 1465-69)
added by Lorenzo Petrucci on Jan 15 2009
Allegory of April: Triumph of Venus (Francesco del Cossa, 1476-84)
added by Lorenzo Petrucci on Jan 15 2009
Procession of the Middle King (detail) (Benozzo Gozzoli, 1459-60)
added by Lorenzo Petrucci on Jan 15 2009
Procession of the Oldest King (detail) (Benozzo Gozzoli, 1459-60)
added by Lorenzo Petrucci on Jan 15 2009
Procession of the Youngest King (detail) (Benozzo Gozzoli, 1459-60)
added by Lorenzo Petrucci on Jan 15 2009
The School of Tagaste (Benozzo Gozzoli, 1464-65)
added by Lorenzo Petrucci on Jan 15 2009
The Court of Mantua (Andrea Mantegna, 1471-74, Mantua)
added by Lorenzo Petrucci on Jan 15 2009
Portrait of Giovanni II Bentivoglio (Ercole de Roberti, 1480, Ferrara)
added by Lorenzo Petrucci on Jan 15 2009
Marriage of St. Monica (Antonio Vivarini, 1441, Venice)
added by Lorenzo Petrucci on Jan 15 2009
added by Lorenzo Petrucci on May 9 2009
LJ: Cioppa Section Construction Details
added by Lorenzo Petrucci on Jun 7 2009
Pope Celestinus III Grants Privilege of Independence to the Spedale (Domenico di Bartolo, 1443)
added by Lorenzo Petrucci on Jun 28 2009
added by Lorenzo Petrucci on Jun 28 2009
added by Lorenzo Petrucci on Jun 28 2009
added by Lorenzo Petrucci on Jun 28 2009
added by Lorenzo Petrucci on Jun 28 2009
added by Lorenzo Petrucci on Jun 28 2009